Main content starts here, tab to start navigating
Serra Gaucha Togo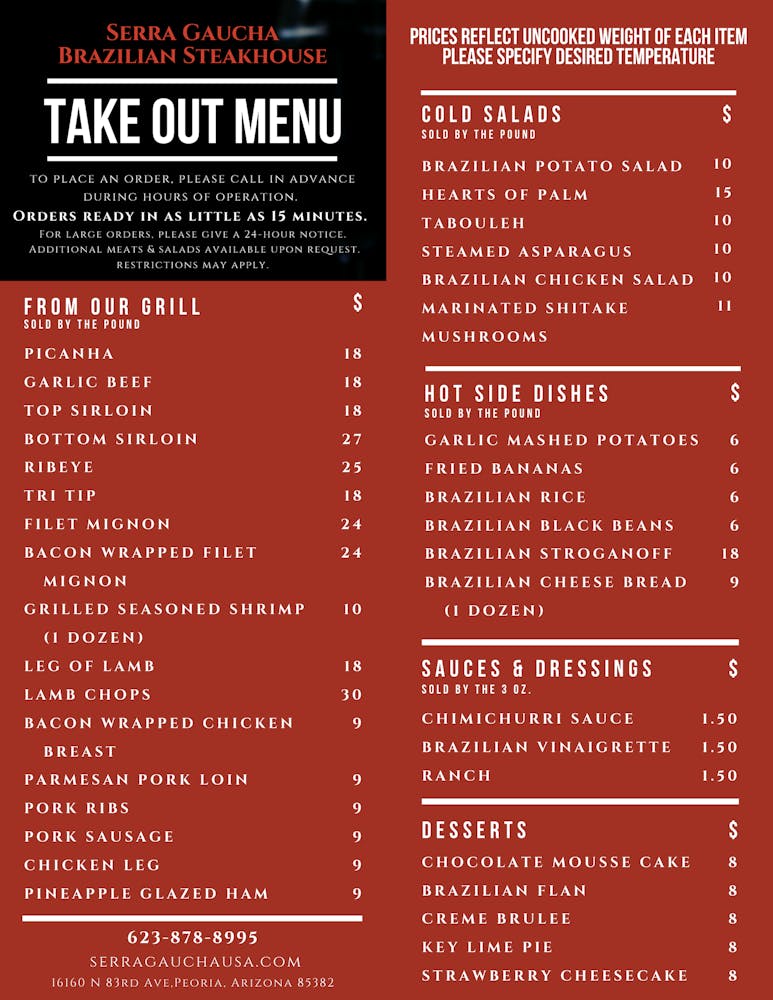 Picanha

The "Signature" cut. The top part of the top sirloin beef, it is a must have!

Garlic Beef

The Signature cut with a garlic sauce.

Top Sirloin

The unique flavors of top sirloin.

Bottom Sirloin

Juicy cut of the bottom sirloin perfectly seasoned.

Tri Tip

Perfectly seasoned and slow roasted.

Filet Mignon

The most tender cut seasoned and roasted to perfection.

Filet Mignon Wrapped in Bacon

A delicious tenderloin wrapped in bacon.

Ribeye

The center of the Ribeye with its marble fats making it juicy, tender, and flavorful.

Beef Ribs

Slowly cooked to perfection!
Leg of Lamb

Marinated to perfection with wine, mint other and spices.

Parmesan Pork

Marinated with wine and spices center cuts of the pork loin encrusted with parmesan cheese.

Pork Ribs

Slow roasted for tenderness this marinated pork ribs.

Chicken Legs

Our famous chicken legs marinated with beer and spices.

Chicken Breast Wrapped in Bacon

Seasoned chicken breast wrapped in bacon.

Chicken Hearts

A Brazilian tradition, our marinated chicken hearts. A delicacy you should try!

Linguica

Slow roasted pork sausage.

Ham

Slow roasted caramelized ham.

Lamb Chops

As tender as filet with decadent flavor
Gluten Free Cheese Bread

Caramelized Bananas

Garlic Smashed Potatoes
~ Hot Dishes ~
Black Beans

White Rice

Stroganov
~ Fresh Vegetables ~
Asparagus

Beets

Broccoli

Green Beans

Mushrooms

Olives

Zucchini

Brussels Sprout

Roasted Peppers

Onions

Tomatoes

Hearts of Palm
~ Fresh Fruits ~
Pineapple

Watermelon (seasonal)

Dragonfruit (Seasonal)
~ Prepared Salads ~
Potato Salad

Chicken Salad with Peppers

Artichoke Tomato Salad

Green Apple Salad

Caesar Salad

Tabbouleh

Orange Glaze Kale
~ Cured Meats ~
Salami

Prosciutto

Wild Smoked Salmon
~ Cheeses ~
Fresh Mozzarella

Swiss Cheese

Manchego Cheese
~ Dressings ~
Roasted Sesame

Caesar

Ranch

Raspberry Vinaigrette

Extra virgin olive oil

Balsamic Vinaigrette

Italian

Basil
Papaya Cream

Brazilian Flan

Crème Brulee

Key Lime Pie

Passion Fruit Mousse
Ice Cream

Chocolate Mousse

Chocolate Molten

Strawberry Cream

Cheese Cake
Slide 1 of 7
Slide 2 of 7
Slide 3 of 7
Slide 4 of 7
Slide 5 of 7
Slide 6 of 7
Slide 7 of 7
On our wine list we have a selection focused in American and South American wines, but you can also find wines from around the world.
Our full bar is an excellent option to start your experience. You can relax drinking a famous "Caipirinha" (The national drink of Brazil). A refreshing tab beer, crafted cocktails, or a glass of wine.
Slide 1 of 2
Slide 2 of 2